Report It
Feedback
More in this Section...
Indigenous Reconciliation
The Township of Woolwich is committed to taking the necessary steps towards healing and reconciliation with the Indigenous Community.
Territorial Acknowledgement
The Township of Woolwich Council adopted the inclusion of a territorial acknowledgement statement to be read at all Council Meetings and Committees of Council Meetings.
If you would like to use the statement that acknowledged at Council, it is available below.
"The land on which we meet has been here from time immemorial. People have inhabited southern Ontario for about 10,000 years and we acknowledge the Attawandaron, Anishinabeg, and Haudenosaunee peoples who lived here when settlers arrived and who share this land with us. May we together learn to care for and respect each other, our flora and fauna, and the land we inhabit together."
Reconciliation Action Plan Working Group
A region-wide Reconciliation Action Plan is being developed by the Region and all area municipalities, to address key themes of concerns expressed by local Indigenous communities, see meaningful relationships enhanced between settlers and Indigenous people, and to uphold our commitments made to respond to the Calls to Action laid out by the Truth and Reconciliation Commission.
This approach will support the many voices of the local Indigenous communities to address the systemic issues and barriers for Indigenous peoples that are inherent in municipal processes, services, programs, and spaces in Waterloo Region. Embarking on the development of a region-wide Reconciliation Action Plan in collaboration with local Indigenous communities is an important next step in the Region's journey toward truth and reconciliation.
As we begin this journey of reconciliation, we acknowledge that we are learning along the way. We recognize the importance of being open, transparent, and accountable for the Reconciliation Action Plan and all subsequent actions.
It was quickly identified that a siloed approach to reconciliation initiatives will not benefit the Indigenous communities that we serve. A Reconciliation Action Plan Working Group (RAPWG) consisting of staff from the Region and all area municipalities has formed to work closely with Indigenous communities to advance reconciliation, including working collaboratively on the development of a municipal Reconciliation Action Plan.
Through the RAPWG, municipal partners provide support and leadership to move the work forward within their respective municipality consistently and collaboratively. Within the working group, several sub-committees have been established to support this work. The themes explored by the subcommittees impact every part of the organization. To further advance this work, staff from the Region and area municipalities have formed five (5) subcommittees to lead work in five specific areas of focus as outlined in the figure below.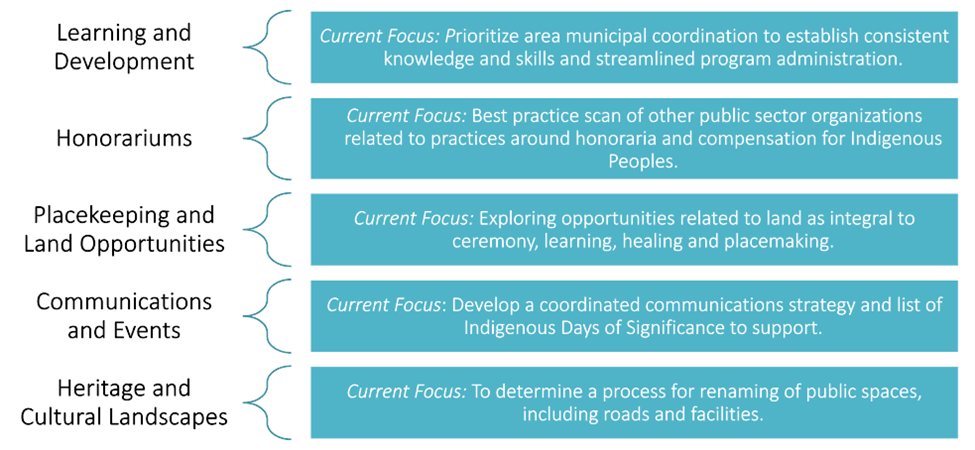 Every Child Matters / National Day for Truth and Reconciliation
September 30th is National Day for Truth and Reconciliation. In previous years, this date has been recognized as Orange Shirt Day: Every Child Matters, a day to witness and honour the healing journey of residential school survivors
and their families.

Orange shirts commemorate the story of Phyllis Webstad, a residential school survivor who was stripped of her shiny new orange shirt when she attended residential school as a six-year-old child. In Phyllis' words, "The colour orange has always reminded me of that and how my feelings didn't matter, how no one cared and how I felt like I was worth nothing."

In an effort to recognize the significance of this day, Woolwich Township flew the "Every Child Matters" flag at Memorial Park in Elmira. All Woolwich staff were encouraged to participate in educational opportunities on September 30th, to learn and better understand the impacts of the Residential School System on members of the Indigenous Community and Survivors.

Further to this, the Township continued to fly this symbolic flag until October 4th, to recognize the National Day of Action for Missing and Murdered Indigenous Women and Girls (MMIWG).
Indigenous Education and Learning
Many resources were made available to Township staff to educate themselves on the legacy impacts of the Residential School System, and the overall history of Indigenous peoples in Canada. The following list of materials provide an opportunity to watch, read and listen.
Watch
Below are a number of videos to choose from for a valuable learning experience.
| | | | |
| --- | --- | --- | --- |
| Title | Locations | Source | Length |
| Phyllis Webstad Orange Shirt Day Presentation | Watch on YouTube | Orange Shirt Society | 7 minutes |
| Senator Murray Sinclair: What is Reconciliation? | Watch on YouTube | Truth & Reconciliation Commission | 3 minutes |
| Reconciliation is Dead by Lori Campbell | Watch on YouTube | TEDx KitchenerED | 10 minutes |
| What non-Indigenous Canadians need to know | Watch on YouTube | TVO | 5 minutes |
| Survivor Panel on Missing Children | Watch on YouTube | National Centre for Truth and Reconciliation | 2 hours |
| We Were Children | Rent online | National Film Board | 1 hour 23 minutes |
| The Walk a Mile Film Project | Borrow by mail | CommonWord | 1 hour 8 minutes |
| We can't make the same mistake twice | Stream online | National Film Board | 2 hours 43 minutes |
Read
Below is a list of reading materials to help broaden your knowledge of Indigenous History in Canada and the Residential School System.
If possible, purchases can be made from an Indigenous book seller such as GoodMinds.
| | |
| --- | --- |
| Title | Author |
| The Inconvenient Indian: A Curious Account of Native People in North America | Thomas King |
| Unsettling Canada | Arthur Manuel |
| The Reconciliation Manifesto: Recovering the Land Rebuilding the Economy | Arthur Manuel |
| Thinking in Indian: A John Mohawk Reader | John Mohawk |
| And Grandma Said...Iroquois Teachings, as passed down through the oral tradition | Tom Porter |
| Seven Fallen Feathers | Tanya Talaga |
| Indigenous Writes: A guide to First Nations, Métis & Inuit Issues in Canada | Chelsea Vowel |
| Birdie | Tracey Lindberg |
| Indian Horse | Richard Wagamese |
| Up Ghost River | Edmund Metatawabin with Alexandra Shimo |
| Price Paid | Bev Sellars |
| Wenjack | Joseph Boyden |
| The Outside Circle | Patti LaBoucane-Benson |
| The Education of Augie Merasty | Joseph August Merasty |
| The Break | Katherna Vermette |
| The Lesser Blessed | Richard Van Camp |
| Dancing on Our Turtle's Back | Leanne Simpson |
| In This Together | Danielle Metcalfe-Chenail |
| The Reason You Walk | Wab Kinew |
Listen
Below are a number of podcasts available on multiple platforms to hear from subject matter experts on Indigenous matters.
| | | |
| --- | --- | --- |
| Title | Host/creator | Availability |
| One Dish One Mic | Sean VanderKlis and Karl Dockstader | |
| Residential Schools | Shaneen Robinson-Desjarlais for Historica Britannica | |
| Still Here Still Healing | Jade Roberts | |
| Unreserved | Rosanna Deerchild | |
| Warrior Life | Pam Palmater | |
| This Place | Rosanna Deerchild | |
| Telling Our Twisted Histories | Kaniehtiio Horn | |
| The Secret Life of Canada | Leah-Simon Bowen and Falen Johnson | |
| Muddied Water: 1870 Homeland of the Metis | Stephanie Cram | |
| Kiwew | David A. Robertson | |
| Pieces | Jeremy Ratt | |
| Inuit Unikkaangit | Mary Powder | |
Learning
Below are different ways to incorporate learning for teams, families or individuals.